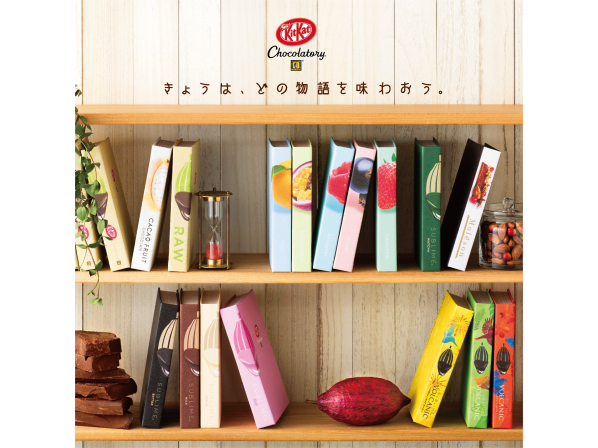 Gifts
Central block 2F / Before security MAP
6:30-21:00(Cafe L.O.20:00)
*Open 11:00-19:00 for a while(Cafe L.O.18:00)


06‐6151‐3282

Credit cards accepted
Since 2003, KitKat Chocolatory specialty shops have been developed with general supervision by Yasumasa Takagi, the owner-chef of Le Patissier Takagi, with the aim of discovering new ways to enjoy KitKats. Whether it's the Sublime series, made with premium chocolate, or the Moleson series, the world's first topped KitKats, you'll find a great variety of KitKats available only here, making it the perfect place to "have a break." A café menu featuring cake and other items from Le Patissier Takagi is also available.

KitKat Chocolatory Sublime Ruby
Ruby chocolate is made from carefully selected ruby cacao beans — its bright pink color comes from the cacao itself, with no coloring added, and it has a tart, berry-like fruitiness. KitKat Chocolatory is proud to offer the world's first product made using this remarkable new type of chocolate.


KitKat Chocolatory Moleson
The world's first topped KitKat — enjoy rich, smooth Sublime Milk chocolate topped with sweet, tart cranberries and fragrant crushed almonds. A beautiful ensemble of flavor, color, and texture.

KitKat Chocolatory 10-Piece Sublime Gift Assortment
Choose ten from KitKat Chocolatory's Sublime series of premium KitKats, for a one-of-a-kind gift assortment. The special gift box makes this perfect as a casual souvenir or a present for someone special.
KitKat Chocolatory Sublime Bitter
KitKat Chocolatory's trademark item. Perhaps the most distinctive feature of Sublime Bitter is the attention given to the chocolate: Sublime Bitter is made with premium couverture chocolate produced from choice, carefully blended cacao beans, bringing out their natural flavor and aroma with an unparalleled texture. Experience luxurious 66% cacao bitter chocolate, with an intriguing hint of tartness.
Other recommended shops