This meeting room can be used for educational events like briefings, lectures, and training, as well as for meetings, presentations, and more.
Hoshi-no-ma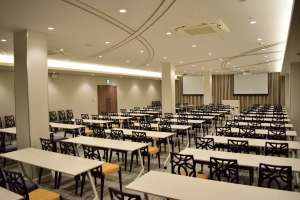 Area

North Terminal 4F

Open
7:00 - 22:00
Size
200㎡
Capacity
Approximately 80 people
Equipment
Screen, 4 wireless microphones, projector, HDMI cables, RGB cables, and audio cables
Charge
*payment in advance
For first 1 hour
22,000yen (including tax)
After first 1 hour
11,000yen / per 30min. (including tax)
Reservation
Reservation by phone is accepted 1 month in advance.
TEL: +81(0)6-6856-7230
*Office hours are 9:00 to 17:00 on weekdays.