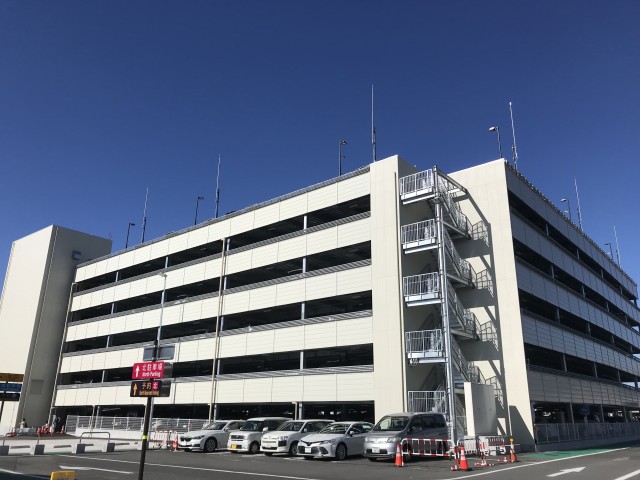 This page shows information about parking at Osaka International Airport (Itami Airport).
Parking Area Congestion Situation
As of 09:43 4/1/2021
Parking Open
This page shows information about parking at Osaka International Airport (Itami Airport).
About parking
Operating hours
Open 24 hours, 365 days a year
Vehicle Restrictions
normal passenger vehicles(total length less than 6m, Less than 2.1m tall, less than 2.2 m wide)
Capacity
2,916 vehicles
* This number includes parking spaces for visitors with disabilities:34 vehicles
Payment
Cash, credit card
* The prepay machines accept a variety of electronic money payments.
Osaka International Airport Parking Map
To use the parking area, you must accept the Osaka International Airport General Parking Control Rules.
Adobe Reader is required to download the PDF. If you do not have Adobe Reader

, click this URL to download the free application.
Entering the Parking Area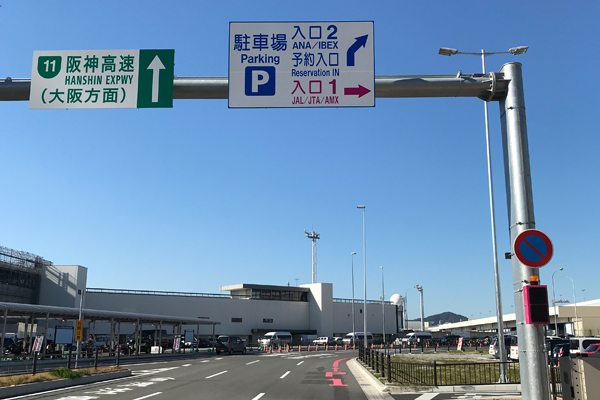 Entrance1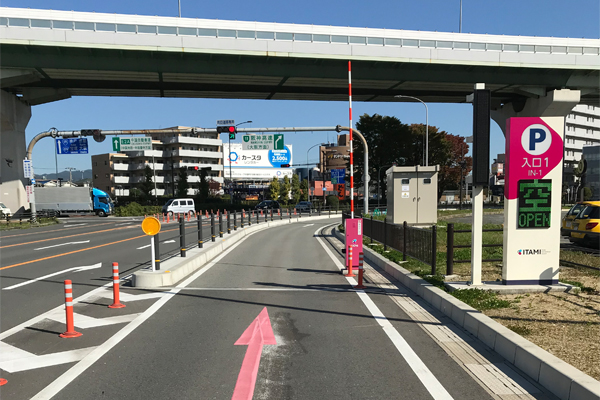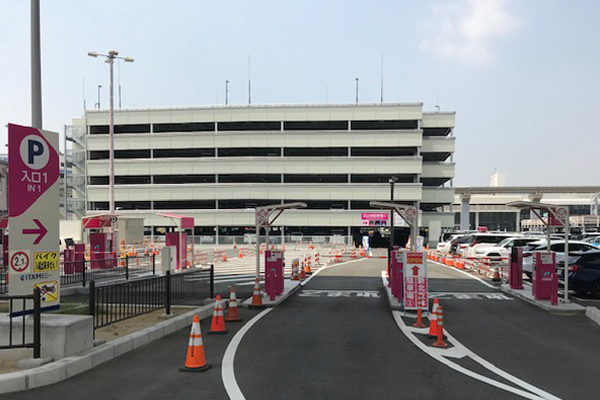 Entrance2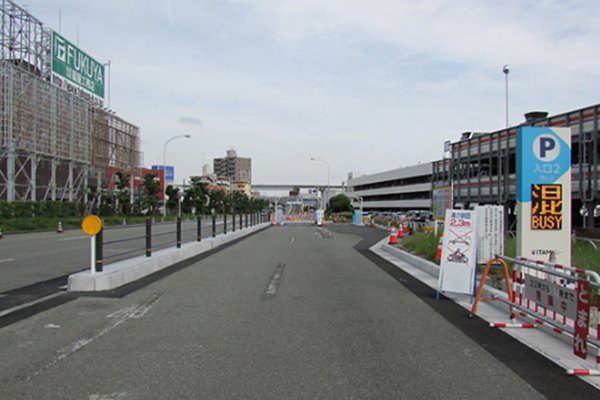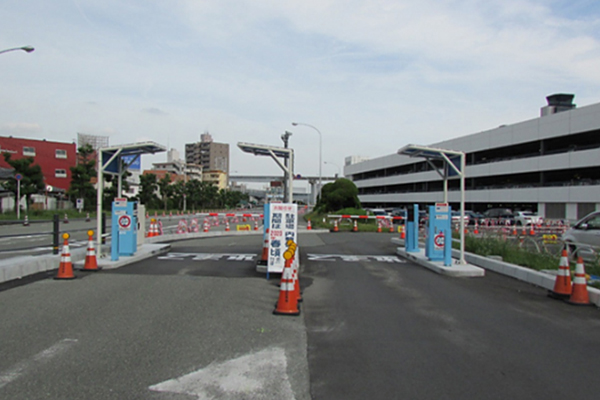 Parking ticket vending machine (entrance gate)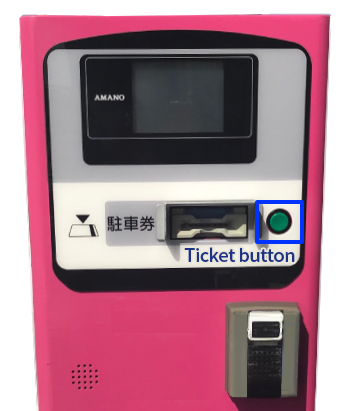 Press the ticket button.
Enter after receiving a general parking ticket.
Always carry your parking ticket with you while away from your vehicle.
Keep the parking ticket with you until you leave the parking area.
Do not fold or bend your parking ticket, or allow to get become wet, or allow it to be near a magnet.
When using the prepay machine, or if you pressed the receipt button at a fee adjustment machine at an exit, the parking ticket is your receipt after paying your parking fee.
Parking fees/Discount
Time
non-peak periods
peak periods
Parking fees
For first 24 hours
Fee per 30 min.
150 yen
200 yen
Max. fee
2,500 yen
3,400 yen
After first 24 hours
Fee per 60 min.
300 yen
400 yen
Max. fee
(Fee per day)
1,600 yen
2,100 yen
* No fee applies when the vehicle leaves the car park within 30 minutes of entering. However, after 30 minutes, parking time will be calculated from the time when the vehicle entered.
* All parking fees are rounded down to the nearest ¥10.
However, for commuter pass users using discounts such as the disability discount, amounts less than ¥1 will be rounded to the nearest whole yen.
Parking fee discount system
Discount
Discount Overview
Details
KIX-ITM CARD
10%OFF
Use your KIX-ITM Card when paying your parking fees to receive a 10% discount. (Discount applies to the remaining fees after any other discounts have been applied.)
Parking Discounts from Airport Shops
One-Hour Free Parking Coupons
Spend a certain amount or more at airport shops and receive a coupon good for one free hour of parking.
Nighttime Parking Coupons
Visitors who spend ¥1,080 or more at a restaurant at the airport after 20:30 will receive a nighttime parking coupon (free parking from 20:00 to 24:00 midnight).
Peak Periods
Peak periods are as follows:
March 21-April 5, April 29-May 5, July 15-August 31, December 28-January 4
Any period of three or more consecutive days consisting entirely of national holidays stipulated in article 2 of the National Holidays Act (act no. 178 of 1948), holidays stipulated in paragraphs 2 and 3 of article 3 of said Act, Saturday(s), and/or Sunday(s) (collectively referred to hereafter as "holidays, etc.")
Any holidays, etc. directly adjacent to the dates listed in 1 above, either before or after
* If a vehicle is parked for a period that includes both "standard period" and "peak period," parking fees for the moment at which the vehicle was parked will apply for the entire 24-hour period after parking. After the first 24 hours, the parking fees for each additional 24-hour period will likewise be based on the moment when each period begins.
Reference: Schematic showing the car parking fees

* Vehicles entering the car park around the time fees change from standard fees to peak fees or vice versa will be charged for the first 24 hours using the fees in place at the time they entered the car park.
Example: Vehicle entering the car park at 09:00 on December 27th and exiting the car park at 08:59 on December 28th > Standard fee of 2,500 yen applies
Example: Vehicle entering the car park at 09:00 on January 4th and exiting the car park at 08:59 on January 5th > Peak fee of 3,400 yen applies
Parking Fee Details
Chart of Parking Fees
Peak period Calendar
* Peak periods are the new year holidays, spring holidays, Golden Week (holidays in late April and early May), summer holidays, and other periods of three or more days of national holidays in a row, including any adjacent Saturday(s) and/or Sunday(s) before or after.
Paying parking fees
Prepay machine
When leaving the parking area, it is convenient to use a prepay machine.
Located at the bridge to the Osaka Airport monorail station, 1F of the South Parking Structure, 1F and 3F of North Parking Structure 1, and by the North Drop-off Lane (parking area side).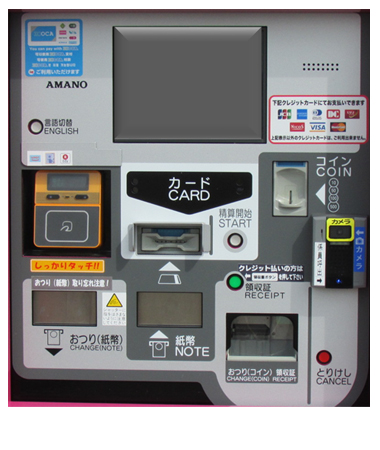 Payment
A variety of credit cards and electronic money are accepted as payment methods.
Customer who require a receipt must press the receipt/statement button.
Notes When Leaving
When you have prepaid, the gate bar will automatically open.
* However, in the event that the gate bar does not open because of a mechanical malfunction or the like, please insert your parking ticket receipt into the fee adjustment machine at the exit.
* Visitors must leave the parking area within 20 minutes of using the prepay machine. If you remain in the parking area longer than 20 minutes, an additional parking fee will be added from the time you prepaid.
Payment by electronic money
The prepay machines accept a variety of electronic money payments.
* Caution: The fee adjustment machines at the exits do not accept these payment methods.
| | | |
| --- | --- | --- |
| Electronic money | | WAON, Rakuten Edy |
| Public transit IC cards | | ICOCA, Kitaca, PASMO, Suica, manaca, TOICA, HAYAKAKEN, nimoca, SUGOCA |
Payment by credit card

No signature is required for payments of ¥30,000 or less, for a quick and easy exit. Please note that for payments over ¥30,000, you may need to visit the control office for payment procedures.
Accumulating miles
Payment using a credit card that is associated with the JAL card or ANA card will be rewarded double miles.
JAL card
This parking area is a JALCARD Shopping Mileage Special Contract Store, allowing cardholders to receive 2 miles for each ¥100 spent — twice the usual amount!
(For JALCARD "Premium" Shopping Mile Program members)
ANA card
In addition to any points you receive from your credit card company, you can also receive 1 mile for each ¥100 you spend!
Osaka International Airport General Information Desk
06-6856-6781 (6:30~21:30)