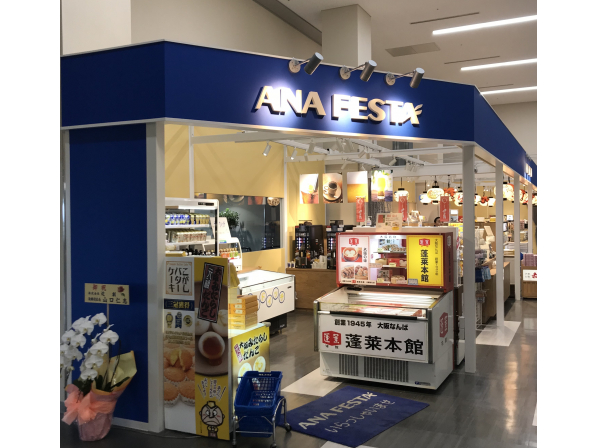 Gifts
South Terminal 2F / After security MAP
6:00 - depends on last flight


06-6856-6944

Credit cards accepted

KIX-ITM Card Perks: 5% off on purchases of 1000 yen or more (some items excluded)
From Kansai region classics such as pork buns, takoyaki, otsukemono, and yatsuhashi to western and Japanese sweets, to marine and agricultural products. Also, offering numerous products only found at this shop in the Itami airport.
Takoyaki
We baked each one by hand using our own aged soy sauce and carefully selected ingredients. (Comes with special sauce, 1 bag)
Akafuku Mochi (red bean rice cakes)
The shape of the famous sweets from Ise "Akafuku Mochi" is based on the flow of the Isuzu River, which flows through the Ise Jingu shrine. The bean paste representing the river and the rice cake representing the pebble of the river bed. Using carefully selected azuki bean and sticky rice, each cake is a low calorie, healthy food that is high in nutritional value.
Horai Honkan Pork Dumplings
Pork dumplings handmade using a method that has been passed down since the founding of Horai Honkan. A fluffy dumpling stuffed with juicy pork and onions. Enjoy this nostalgic, warm flavor at home or give as a gift.
Mitarashi Dango (rice cake with sweet sauce)
Reverse mitarashi dango with the sweet sauce on the inside of the dango. Best eaten in a single bite to enjoy both the dango and the mitarashi sauce inside.
LaLaLa Pecan
Sweet, aromatic, candy-coated pecan nuts, a rarer member of the walnut family. These are wrapped in an aromatic white chocolate with a pleasant aftertaste and sprinkled with caramel powder. The wonderful combination of white chocolate and pecan nuts are accented by the light caramel powder for a flavor you can"t ignore.
Kyo Baum
Using classive Kyoto Uji matcha and Kyoto soymilk, a batter is layered to create a soft, moist baumkuchen. A sponge cake made from Kyoto soymilk and succulent 100% Japanese domestic flour. Added to this is a layered macha cake featuring a blend of Uji matcha. A moist, soft type of baumkuchen.
Other recommended shops