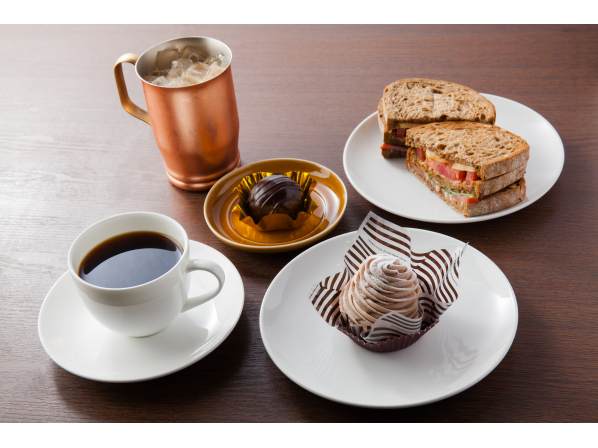 Café
North Terminal 2F / Before security MAP
6:30~21:00


06-6335-7570

97 seats

Credit cards accepted

KIX-ITM Card Perks:
Enjoy Precious Coffee Moments in a Charming Retro-Modern Atmosphere.
In recent years, Japan's 20th-century café culture has started to fade; Ueshima Coffee House was built around a fondness for the old-fashioned warmth of these sophisticated cafés. Enjoy nel drip coffee — said to be the ultimate coffee brewing method — or rich, milky coffee drinks. Visitors can also choose from a variety of sandwiches made with only the finest ingredients, to enjoy alongside precious coffee moments in a charming retro-modern atmosphere.
Nel Drip Coffee
Ueshima Coffee House prides themselves on their premium nel drip coffee, made with beans blended for a rich, full-bodied aroma and a deep, satisfying flavor. To fit the retro-modern atmosphere, this coffee is served to café guests in Sori Yanagi cups.
(Also available as a takeout item.)
Iced Coffee
Café guests are served their iced coffee in copper mugs, which conduct heat particularly well, for a refreshingly ice-cold feel.
(Also available as a takeout item.)
Brown Sugar Lump Milk Coffee
One of the most popular drinks on the Ueshima Coffee House menu.
Coffee served with milk and plenty of dark brown sugar from Okinawa, for a complex, refreshing sweetness.
(Available both hot and iced. Also available as a takeout item.)
Club Sandwich with Thick-Sliced Bacon
Made with thick-sliced bacon and roast chicken, served on multi-grain bread that's baked in a stone oven for a moist, chewy result with a deliciously toasty aroma.
(Also available for takeout.)
Other recommended restaurants