Nakagawa Masashichi shoten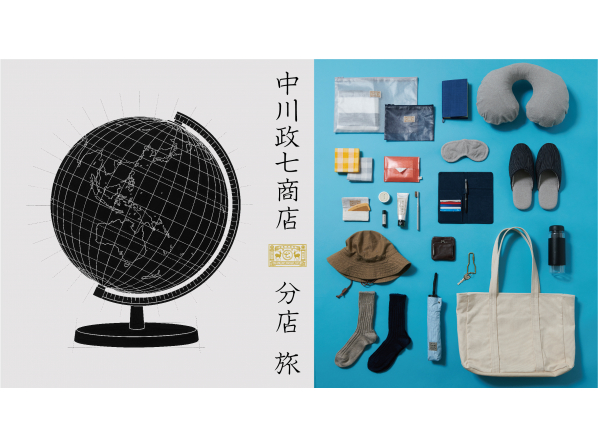 Gifts、 Fashion、 Travel、 Interior、 Kids、 Others
North Terminal 2F / After security(Boarding Gates Area) MAP
7:30~20:00


Credit cards accepted
Souvenirs, Travel Goods, and Lifestyle Accessories
For Travel and Everyday Life.
Travel brings us into contact with new customs and conventions, broadening our horizons and helping us grow. Every region develops its own unique culture surrounding food, clothing, and homes, unlike those found anywhere else.
Travel is a chance for new and unfamiliar encounters, providing a chance to reconsider ourselves and our lifestyles. A chance to sympathize with others, building new connections as people.
Nakagawa Masashichi Shoten is the perfect place to discover your new favorite everyday items, and better prepare yourself for the trip ahead.
Explore a collection of items for travel and everyday life, across travel goods, souvenirs, and lifestyle accessories.
BAGWORKS BOYSCOUTSMAN
Made in collaboration with Bagworks in Toyooka, a region famous for bag-making, for a backpack ready for work. The Boyscoutsman series of backpacks, a Nakagawa Masashichi Shoten exclusive, is named for its inspiration: the backpacks worn by Boy Scouts. Made from hemp canvas from Kurashiki and pictured here with distinctive white leather, for a refreshingly summery feel to its design.

TO&FRO ORGANIZER
To&Fro Organizers are a light and compact way to pack and carry travel items.
Made with thin, light Humming Bird fabric, these are the world's lightest travel organizers.* The Small size, shown here, is ideal for carrying underwear, socks, face towels, and other smaller items — even folded clothing. Available in five colors, perfect for organizing your travel items so you always know where everything is, and they fold flat, making them compact and easy to carry with you, as well.
*Based on 2014 research by To&Fro.

Knit Travel Poncho — Mino & Nakagawa Masashichi Shoten Collaboration
The Nico is a rectangular poncho made with two slits, perfect for wearing jacket-style. It comfortably covers the shoulders and arms, making it great for preventing sunburn and providing a bit of cooling shade. You can also wrap this versatile garment around your neck for a whole new look.

Cow Brand Soap Tenugui Hand Towel
A tenugui hand towel with a design based on the iconic red box of Cow brand soap, depicted in various sizes. Dyed locally in Osaka.

Kincho Japanese Summer Kitchen Towels
Kitchen towels made from mosquito netting fabric, created in collaboration with Kincho, with a design based on the packaging for their long-beloved bug-repellent incense. Look closely, and you might notice fun touches like tweaks to the text on the logo. In addition to their charming design, these kitchen towels use mosquito netting fabric — a specialty of Nara Prefecture — for sturdy towels that grow softer with use.

Takoyaki Daruma Mikuji Fortune-Telling
Adorable ceramic daruma dolls decorated to look like takoyaki octopus dumplings, an Osaka favorite. Each one comes with a fortune inside, written in Osaka dialect. The hole on top fits a toothpick, to complete the takoyaki look. Available in three designs, to look like they're topped with bonito tuna flakes and mayonnaise, aonori seaweed and red pickled ginger, or mentaiko spiced cod roe mayonnaise and green onion. Perfect as a souvenir or present from a trip to Osaka!

Other recommended shops