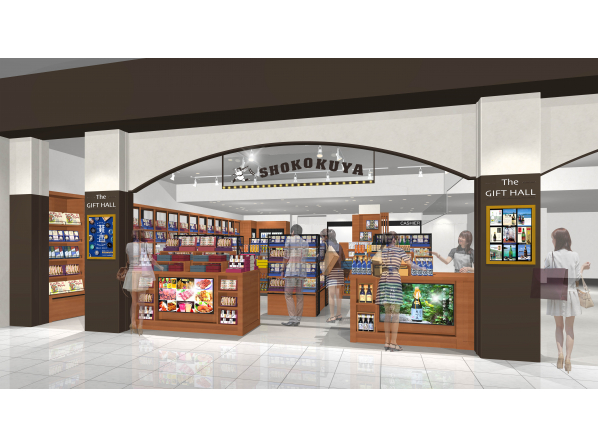 Gifts
North Terminal 2F / Before security MAP
6:30~21:00


Credit cards accepted

KIX-ITM Card Perks: 5% discount for purchases over 2,000 yen(including tax) (does not apply to some products)
Explore a Great Selection of Premium Items from Osaka, Hyogo, and the Rest of Japan!
Shokokuya offers a brand-new variety of gift shop experience.
At Shokokuya, you can pick up popular local bread and jams, or sweets and cakes, without having to make special trips out to the shops where they're sold!
The limited-time section features a selection of choice items. Shokokuya also offers caramel-themed items to take home, available only at the airport!
Shokokuya's buyers travel the country in search of great items to offer — you might even find some of the great souvenirs you've already picked up elsewhere!
Stop by and check out what's available, whether you're looking for a change of pace from the usual souvenirs, a unique present for someone special, or even just something for yourself!
THE CARAVEL OSAKA
Named for a combination of "caramel" and "travel," this brand of sweets was inspired by their hope to bring customers lovely travel experiences, accompanied by the rich, sweet aroma of caramel.

Sato Kaede Minoh Danish
Sato Kaede is based in Minoh, Osaka Prefecture, a city famous for some of Japan's most beautiful autumn colors.

Kobe Shushinkan Fukuju
Fukuju Junmai Ginjo sake has been served at official Nobel Prize events. Pick up a bottle of this prestigious sake, as well as sake sweets and other unique items from Kobe Shushinkan.

Other recommended shops