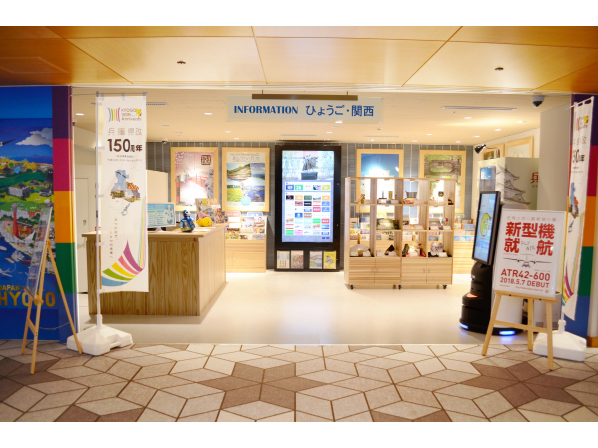 Gifts、 Others
Central block 2F / Before security MAP
6:30~21:00
Staff Available 8:30 to 20:00


090-9284-1940

Credit cards not accepted
A Fun Information Area
Hyogo Prefecture consists of five regions: Settsu, Harima, Tajima, Tamba, and Awaji, with the Sea of Japan to the north and the Seto Inland Sea to the south. It is a prefecture that offers both big city excitement and natural beauty, for something for everyone. Information Hyogo & Kansai makes a great way to find out about destinations worth visiting in Hyogo and the Kansai area, and it also offers exhibits and sales of local products and souvenirs. Visitors can also get sightseeing information from a robot, search for information using touchscreen digital signage, or try other fun and unique information area experiences.

Sightseeing Information with Digital Signage
In addition to showing sightseeing information videos, these displays have icons that visitors can touch for more detailed information.

Buy Hyogo Products from a Vending Machine
A fun and easy way to buy products from Hyogo.

Sightseeing Information from a Robot
Talk with a robot to learn about sightseeing information.

Sightseeing and Product Information Available
Enjoy seasonally themed displays, and local products available for sale.

Sightseeing Information Assistance
Staff are available from 8:30 to 20:00 to offer sightseeing information — feel free to ask for help.

Automatic Air Purifier and Digital Signage Robot
From the grand opening on April 18 through the end of May, this moving signage robot will be available at Information Hyogo. Experience the world's first robot that combines digital signage with an air purifier and sterilizing lamp.

Other recommended shops