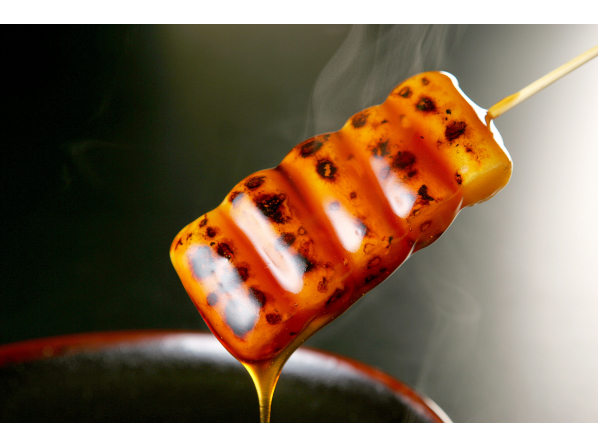 Gifts、 Others
North Terminal 2F / After security(Boarding Gates Area) MAP
6:00~20:00


06-6854-6008

Credit cards accepted
Made Right Before Your Eyes
When they were founded in 1948, this shop chose the name "Kiyasu" as a literary expression of their hopes to bring happiness to people. Their motto: use the finest ingredients, and offer delicious hand-made sweets at reasonable prices. Choose from a menu of ten or so items, including their famous sake manju and their popular mitarashi dango.

Mitarashi Dango
Kiyasu's uniquely oblong dango dumplings are grilled directly over a strong flame after they're ordered, giving them a deliciously toasty char. They're then dipped in a sweet-and-savory sauce made with rich tamari soy sauce from Kagawa Prefecture, coarse white sugar, and dashi stock made with premium kombu kelp from Akkeshi, Hokkaido. The dango dumplings can also be grilled lightly or well-done by request.

Sake Manju
The recipe for these sake manju has been continuously improved ever since Kiyasu's founding in 1948. Savor the rich aroma created by sake koji in these fluffy steamed buns — they're particularly delicious hot and fresh in the cold of winter! Even after they've cooled, you can wrap them in plastic wrap and microwave them, or heat them in the oven, for a warm treat you can enjoy at home.

Kintsuba
Kintsuba features a sweet bean paste made from choice azuki beans from Tokachi, Hokkaido, cut into bars and carefully grilled on each surface by a pro. Their perfectly balanced flavor has a delicate sweetness that comes from the premium sugar, making these a popular item. Available individually and in packs.

Rikishi Monaka
As their name — literally "sumo wrestler wafer sandwiches" — would imply, this signature Kiyasu item boasts an impressive size, with flavor to match! Especially popular as a gift for friends and family far away.

Other recommended shops