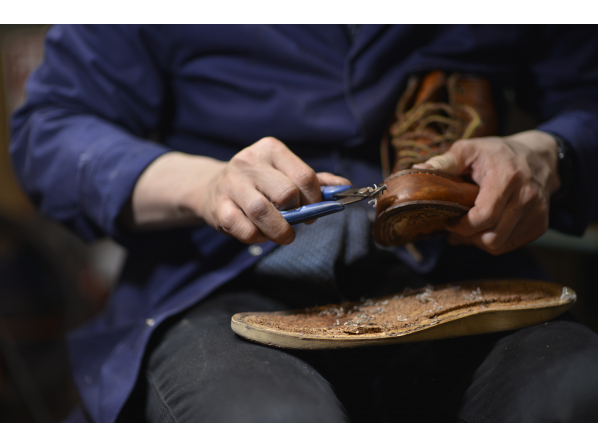 Fashion、 Travel、 Interior、 Relaxation、 Others
North Terminal 2F / Before security MAP
7:00~20:00


080-6195-5993

Credit cards accepted

KIX-ITM Card Perks:
Let Professionals Handle Your Shoe and Bag Repair
The professionals at Resh are experts in shoe repair of all sorts, from leather dress shoes to sneakers, ladies' shoes, and more. They can also handle repair work on bags from a variety of brands, both domestic and international, with a focus on excellent results. Feel free to stop by and ask for a price quote.
Shoes Polished to a Mirror Gloss
Resh professionals aren't satisfied to merely improve the condition of shoes: in addition to performing shoeshines, they can also fix scratches and other damage, and handle repairs to worn-down parts of the insides and soles of the shoes. And of course, shoes polished to a mirror gloss are perfect for when you're dressed to impress! Even if you don't wear leather dress shoes, these professionals can also make ladies' shoes and sneakers look great.
Shoe Cleaning
Cleaning is available for a wide variety of shoe styles and materials, from sneakers to dress shoes made of leather, suede, and sheepskin. These shoe professionals can also remove troublesome odors, and even deal with rain stains and mold. Resh boasts unique cleaning materials and equipment developed through soap maker and cleaning company collaborations, making it possible to fix issues once thought irreparable. Just ask and find out whether your shoe issues can be handled by Resh!
Eterno Steel Sole Toe Reinforcements and More
These steel sole toe reinforcements were developed by Resh, and their stylish design and excellent durability have drawn attention from shoe lovers in Japan and overseas. While it's best to attach them to brand new leather soles, they can also be used on somewhat worn soles. Quick service available.
Sneaker Sole Replacements
Leather dress shoe sole replacements have long been available, and today virtually every shoe repair shop offers replacements. Sneakers, however, are a different matter: Resh has established contracts with top sneaker sole makers like Vibram, and uses unique technologies to replace soles on sneakers. All sneaker soles wear out with use, whether they're from Nike, New Balance, Adidas, or anyone else. Don't just throw away your old sneakers — bring them in and ask for a price quote on a sole replacement!
Bag Repairs
Don't hesitate to bring bags in for maintenance and repairs! The professionals at Resh's bag repair workshop are experts in the techniques used to make bags, and can handle all types of repair work.
Shoe Maintenance Products
Choose from a curated selection of shoe care items from around the world, as well as original items designed by Resh for ease of use.
Other recommended shops