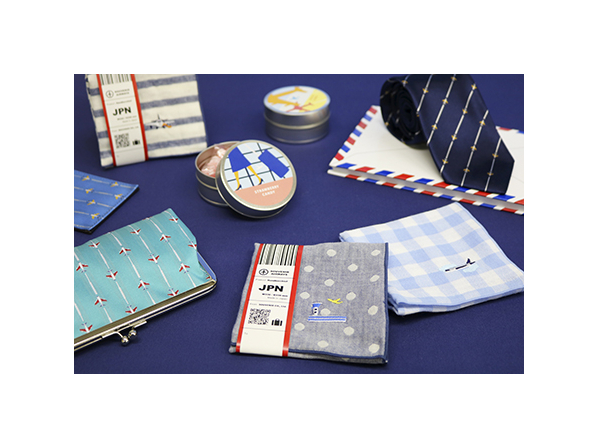 Gifts、 Travel、 Interior
Central block 2F / Before security MAP
7:00~21:00


06‐6152‐7714

Credit cards accepted

KIX-ITM Card Perks: 5% discount for purchases over 5,000 yen(including tax)
Design goods,Souvenir
No matter where you travel, there is always value in bringing home a piece of the excitement and joy of your trip. These charming, well-designed accessories and souvenirs make great travel mementos. With a wide variety of delightful souvenirs, travel items, and fashion accessories, as well as everyday items like cutlery and stationery, there's something here for everyone passing through Osaka International Airport, whether you're traveling for business or pleasure.

Airport Exclusives and Airplane-Themed Items
Offering a great selection of unique, airplane-themed items available only at airports — handkerchiefs, candies, neckties, keyrings, and more! All of these well-designed items are made in Japan, too. Whether you're looking to buy a gift or just a souvenir for yourself, there's something perfect for all ages.
Embroidered Handkerchiefs
Handkerchief Bakery offers a broad selection of handkerchiefs for both men and women, including many with playful embroidered designs, made from a variety of materials, including gauze, sturdy cotton, hemp blends, and more. With a lineup that runs from the formal to the everyday, these handkerchiefs make perfect gifts.
Osaka-Themed Souvenirs
Osaka-themed items make a fun way to remember your visit to Osaka. Whether a takoyaki-shaped gamaguchi clasp bag or a handbag with an Osaka-themed design, a handkerchief embroidered with Osaka Castle or comedians, or a souvenir keyring, there's something perfect for everyone.
Japanese-Style Gamaguchi Clasp Bags
Choose from a great selection of Japanese-style accessories for everyday use, as well as special seasonal items. The gamaguchi clasp bags are each hand-made by artisans, and available in a variety of shapes and styles. In addition to gamaguchi clasp bags, there are plenty of other delightful accessories, pouches, and more, and they make perfect souvenirs.
Tail Charms
These fine horse-shaped leather-and-braided-cord charms are made with anti-static thread. The braided cord "tails" are made with kumihimo cord from Showen Kumihimo, a long-established shop in Uji, Kyoto. These charms make a popular gift, as a cute way to help keep static electricity from building up during winter. A variety of other items with braided kumihimo cord are also available, such as glasses straps.
Travel Items and Stationery
Whether travel items or everyday stationery accessories like business card holders or pencil cases, there's plenty to choose from. The selection includes delightful items like fabric luggage tags, or acrylic luggage tags designed to look like airplane boarding passes. There is also imported stationery available, including notebooks, binders, colorful clips, and other fun items.
Other recommended shops