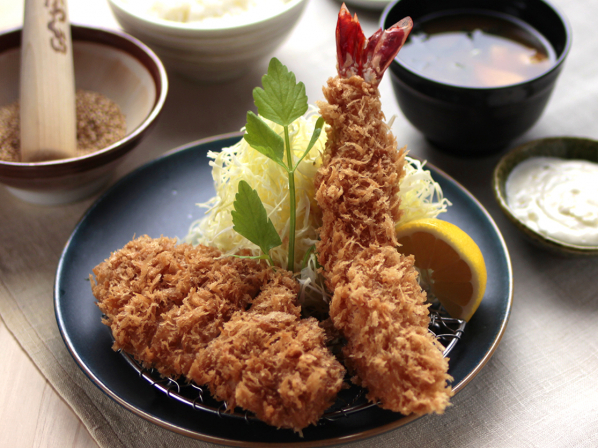 Japanese Traditional
Central block 3F / Before security MAP
11:00~23:00(L.O.22:00)


06-6152-8733

42 seats

Credit cards accepted

KIX-ITM Card Perks:
Healthy and Delicious Dishes from Kyoto.
A pork cutlet restaurant born and raised in Kyoto, a city with refined, uncompromising tastes when it comes to food. The ingredients are given the utmost care before being served. Enjoy a lovingly prepared meal, made with seasonal flavors.

Tenderloin Cutlet and Fried Shrimp Zen-Set
Featuring a tender pork tenderloin cutlet served alongside a fried shrimp.

Premium Pork Cutlet
Premium pork raised in the rich natural environment of Gunma Prefecture. Enjoy its satisfying chew and great flavor.

Healthy Vegetable Frying Oil
Katsukura uses a zero-cholesterol blend of refined vegetable oils, as a healthy way to make fried items crunchy with a delicious depth to their flavor.

Hearth-Baked Panko Breadcrumbs
Panko breadcrumbs made from hearth-baked bread help seal in the rich flavor of the meat, while frying up light and crunchy with a wonderful aroma.

Domestic Cabbage
Cabbage makes the perfect partner for cutlets. Katsukura uses choice cabbage, selected for when it's in season, delivered from a variety of areas throughout Japan. Not only does it go perfectly with the meat, but extra servings of cabbage are free.

Kiyomizu Ware, Kyoto Wire Ware, and Bamboo Ware
The dishes each Katsukura meal are served on are traditional crafts of Kyoto. The ceramics are Kyoto's famous Kiyomizu ware, with designs that are Katsukura originals. The wire meshes used to serve fried items are hand-made traditional crafts. The bamboo ware that the cabbage is served in is also registered as a traditional industry of Kyoto.

Other recommended restaurants